I fully appreciated how the power of constraints and limitations can unlock creativity when I returned to Seattle to run my family's newspaper in 2008, the start of the global recession and decline of the newspaper industry. I was forced to be extremely scrappy and entrepreneurial as my parents and I tried to survive these unfortunate circumstances. That experience, though, informed how I approached my work later on.
Here are 6 tips to help you think about constraints and limitations differently:
1. Accept that you have constraints and limitations so you can unlock creativity.
We might be tempted to dwell on what we don't have or what we should have. It's OK to feel upset. It is then that we move on and get to acceptance; that is where we can start the work.
2. Focus on what you do have, not on what you don't have.
While there are many things that we don't have, they're actually many things that we still have. My favorite story around this is with impressionist painters. A group of painters were painting together, and they realized they didn't have any more black paint, so they started using violet. Then violet became the new black, the darkest shade. Without the color black, the impressionist paintings look so much more light. Here, they focus on what they did have, which was the color violet.
3. Focus on what you can try and experiment with.
Not having things can also make us experiment more. When we hold our learning experiences (what we call our workshops), we really like to have breakout groups so people can talk with one another. With some of our CuriosityBased clients, they don't want any interaction with one another so I had to create a sense of interactivity without being able to rely on one of my go-to. We started to experiment with different kinds of polling to quickly get anonymous information from people. We would then show the results of those polls and have the people react to them. This constraint actually led us to improve the polling in our regular learning experiences that do have breakout groups. This limitation helped us improve overall.
4. Be clear about what you actually need to accomplish the work.
Sometimes we're so used to things we think we need to have that we forget that we actually don't really need them in order to do the work. For me, for example, I usually have access to a screen to project a PowerPoint slide deck when I am facilitating in-person sessions. So when I was asked to facilitate an outdoor session in a park, I couldn't use my usual tech. Instead, we printed follow-along packets for people to consult. Turns out I didn't need a projector after all.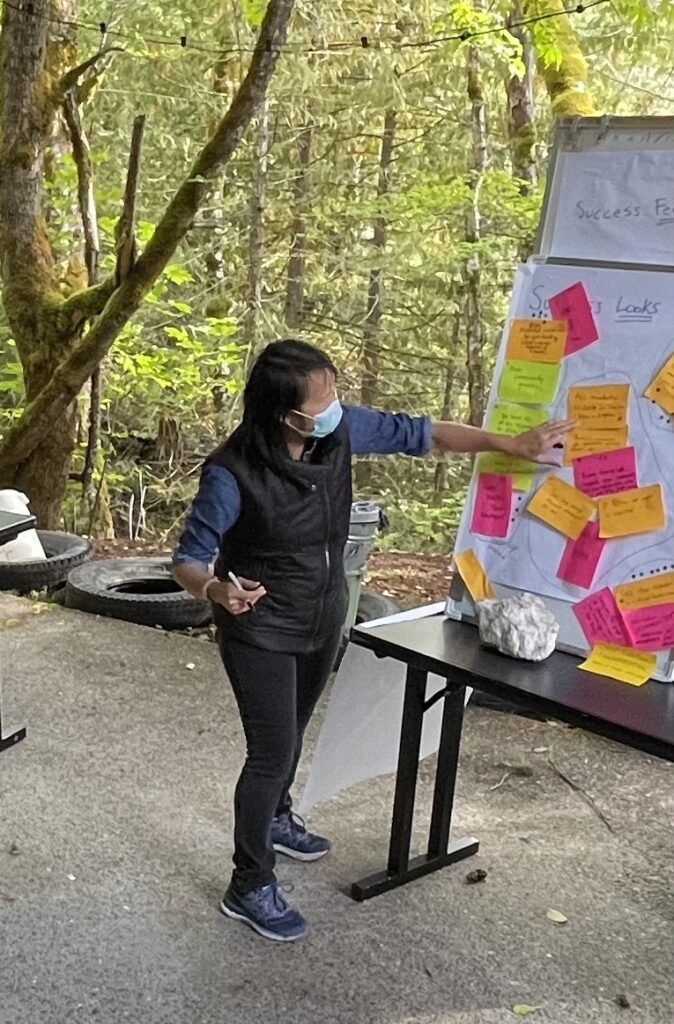 5. Trade products and services to get what you need.
When I worked at the newspaper, we had a lot of advertisers who had fallen behind on their bills, and also people who wanted to advertise and they just didn't have the cash. We ended up doing a lot of bartering services like restaurant gift cards and printing services so we could each get what we needed.
6. Ask for help so you can get more resources.
I used to lead volunteer teams in building projects with no resources in a very short time frame. Some teams asked for donations, but I remember one team in particular wanted to organize an event and they ended up getting cupcakes donated, a free space, and volunteers to help. Once they expressed a need for help, people offered more than they had hoped for.
When we frame constraints as a way to force us to do things differently, that is when we discover our inner creativity. Which of these reframes resonates with you? I'd love for you to share your thoughts in the comments section. If this was helpful, please share it with a friend or post it on social media.
---