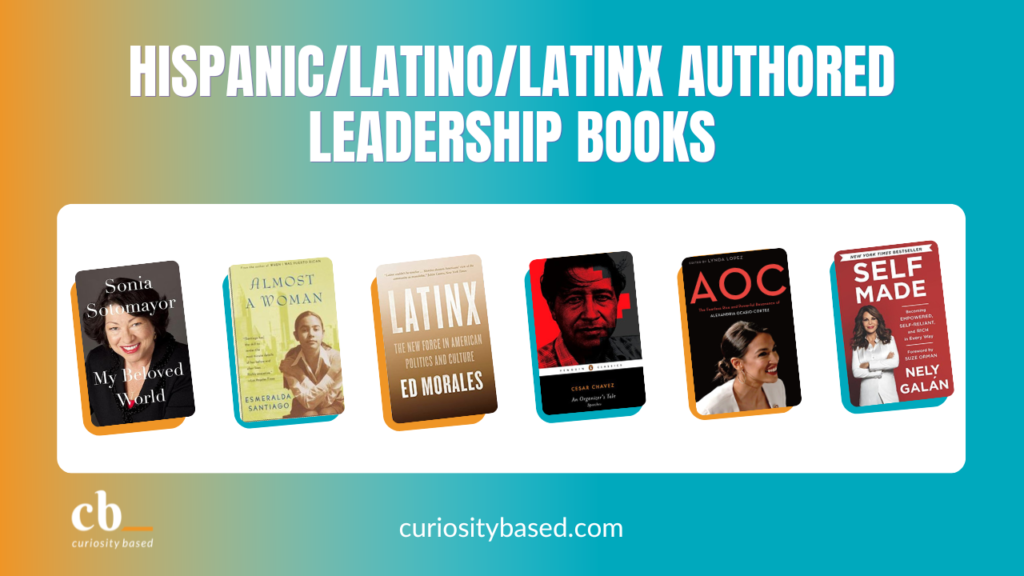 We created this list to promote leadership narratives written by those who identify as Hispanic, Latino, and/or Latinx. This list is meant to be a resource, not an official endorsement. The books are not ranked or listed in any particular order.
Download the full list below.
Me by Ricky Martin
And A Voice to Sing With: A Memoir by Joan Baez
The Gloria Anzaldúa Reader (Latin America Otherwise) by Gloria Anzaldúa
Borderlands / La Frontera: The New Mestiza by Gloria Anzaldúa
Almost a Woman by Esmeralda Santiago
In the Time of the Butterflies by Julie Alvarez
Farmworker's Daughter: Growing up Mexican American by Rose Castillo Guilbault
The Power of Latino Leadership: Culture, Inclusion, and Contribution by Juana Bordas
When I was Puerto Rican by Esmeralda Santiago
Salsa, Soul, and Spirit: Leadership for a Multicultural Age by Juana Bordas
Autentíco: The definitive guide to Latino Career Success by Robert Rodriguez
Brown Church: Five Centuries of Latina/o Social Justice, Theology, and Identity by Robert Chao Romero
Hermanas: Deepening Our Identity and Growing Our Influence by Natalia Kohn Rivera
Isabel's Hand-Me-Down Dreams by Isabel Lopez
Leaving Little Havana: A Memoir of Miami's Cuban Ghetto by Cecilia M. Fernandez
Gmorning, Gnight!: Little Pep Talks for Me & You by Lin-Manuel Miranda
[Un]framing the "Bad Woman":Sor Juana, Malinche, Coylxauhqui, and other rebels with a cause by Alicia Gaspar de Alba
Always Running: La Vida Loca – Gang Days in L.A. by Luis J. Rodriguez
Cruz: A Cross-Border Memoir by Jean Guerrero
Dear America: Notes of an Undocumented Citizen by Jose Antonio Vargas
Undocumented: A Dominican Boy's Odyssey from a Homeless Shelter to the Ivy League by Dan-el Padilla Peralta
The Far Away Brothers: Two Young Migrants and the Making of an American Life by Lauren Markham
My Beloved World by Sonia Sotomayor
Latina Empowerment Through Leadership: Mindful Stories from Inspiring Women by Catherine Munos Garces, Monica Rivera, et al
An Organizer's Tale by Cesar Chavez
My Time to Speak: Reclaiming Ancestry and Confronting Race by Ilia Calederon
Rita Moreno: A Memoir by Rita Moreno
American Poison: How Racial Hostility Destroyed Our Promise by Eduardo Porter
My (Underground) American Dream: My True Story as an Undocumented Immigrant Who Became a Wall Street Executive by Julissa Arce
The Virtuous Circle: Restore Your Confidence, Bounce Back, and Emerge Stronger by Gaby Natale
Self Made: Become Empowered, Self Reliant and Rich in Every Way by Nely Galán
Latino Leaders Speak: Personal Stories of Struggle and Triumph edited by Micky Ibarra and Maria Pérez-Brown
Leapfrog: The New Revolution for Women Entrepreneurs by Nathalie Molina Niño
The Soul of a Woman by Isabel Allende
In the Dream House: A Memoir by Carmen Maria Machado
Once I was You: A Memoir of Love and Hate in a Torn America by María Hinojosa
More than Ready: Be Strong and Be You…and Other Lessons for Women of Color on the Rise by Cecilia Muñoz
Perfectly You: Embracing the Power of Being Real by Mariana Atencio
Take Charge of Your Brand: Quick and Simple Techniques to Help You Own and Manage Your Personal Brand for Professional and Personal Success by Guisselle Nuñez
In the Country We Love: My Family Divided by Diane Guerrero
Frida by Barbara Mujica
Finding Latinx: In Search of the Voices Redefining Latino Identity by Paolo Ramos
The Undocumented Americans by Karla Conejo Villavicenci
AOC: The Fearless Rise and Powerful Resonance of Alexandria Ocasio-Cortes by Lynda Lopez
Latinx: The New Force in American Politics by Ed Morales
Mexican Enough: My Life Between the Borderlines by Stephanie Elizondo Griest
Being Brown: Sonia Sotomayer and the Latino Question by Lázaro Lima
An Unlikely Journey: Waking up from My American Dream by Julián Castro
Hispanic Women Seeking Higher Leadership Roles in Business by Sylvia C. Motta, PhD
Wild Tongues Can't be Tamed: 15 Voices from the Latinx Diaspora edited by Saraciea J. Fennell
The Leadership Shift: The Strategic Positioning of Latino Business Leaders by Dr. Nilda Perez
¡Rise up, Mi Gente! A Roadmap for Latinos to Achieve Success in Corporate America by Jesse A Mejia
Inventing Latinos: A New Story of American Racism by Laura E. Gómez
The 5 Disciplines of Inclusive Leaders: Unleashing the Power of Us All coauthored by Andrés Tapia
When We Make It by Elisabeth Velasquez
I am Not Your Perfect Mexican Daughter by Erika L. Sanchéz
Latino Talent: Effective Strategies to Recruit, Retain, and Develop Hispanic Professionals by Robert Rodriguez
Silencing Gender, Age, Ethnicity, and Cultural Biases in Leadership by Camilla A. Montoya, Julieta V. García. et al.
Inclusion Revolution: The Essential Guide to Dismantling Racial Inequity in the Workplace by Daisy Auger-Dominguez
Latinas Rising Up in HR: Inspirational Stories of Human Resources Professional Leading, Thriving, and Breaking Barriers by Priscilla Guasso
The Secret Principles of Genius: The Key to Unlocking Your Hidden Genius Potential by I.C. Robledo
I Got This: To Gold and Beyond by Lauren Hernandez
The Engine of America: The Secrets to Small Business Success from Entrepreneurs Who Have Made It by Jane Delgado
The Latina Guide to Health: Consejos and Caring Answers by Jane Delgado
Field Mice: Memoirs of a Migrant Child by Emma Gonzalez
Los Amos del Mundo Están al Acecho by Cristina Martin Jimenez
Growing American Roots by Bob Menendez
Dream in Color: How the Sánchez Sisters are Making History in Congress by Linda Sánchez
Healing Journey: Surviving Domestic Violence by Lupe Valdez
La Nueva California: Latinos from Pioneers to Post-Millennials by David Hayes-Bautista
El Cinco de Mayo: An American Tradition by David Hayes-Bautista
Latinas in Aviation by Jacqueline S. Ruiz
Becoming Dr. Q: My Journey from a Migrant Farm Worker to brain Surgeon by Alfredo Quinones-Hinjosa
The Universal Tone: Bringing My Story to Light by Carlos Santana
Take a Stand: Lessons from Rebels by Jorge Ramos
The Injustice Never Leaves You: Anti-Mexican Violence in Texas by Monica Muñoz Martinez
Powerhouse Principles: The Ultimate Blueprint for Real Estate Success in an Ever-Changing Market by Jorge Perez
The Buena Salud Guide to Understanding Depression and Enjoying Life by Jane Delgado
Leadership Lessons of the White House Fellows: Learn How to Inspire Others, Achieve Greatness , and Find Success in Any Organization by Charles P. Garcia
Persevere with Power: What Heaven Starts, Hell Cannot Stop by Samuel Rodriguez
In Defense of Our America: The Fight for Civil Liberties in the Age of Terror by Anthony D. Romero
One Vote Away: How a Single Supreme Court Seat Can Change History by Ted Cruz
Still Dreaming: My Journey from the Barrio to Capitol Hill by Luis Gutiérrez
An American Son: A Memoir by Marco Rubio
The Undocumented Americans by Karla Cornejo Villavicencio
A House of My Own: Stories from My Life by Sandra Cisneros
Spirit Run: A 6000 Mile Marathon Through America's Stolen Land by Noe Alvarez
Dirty Girls Social Club by Alisa Valdes-Rodriguez
Woven in Moonlight by Isabel Ibañez
The Latino Advantage in the Workplace by Mariela Dabbah and Arturo Poiré
Dream Big by Deborah Rosado Shaw
Youth, Identity, Power: The Chicano Movement by Carlos Munoz Jr.
Mean by Myriam Gurba
Presumed Incompetent: The Intersections of Race and Class for Women in Academia by Gabriella Gutiérrez y Muhs, Yolanda Flores Niemann, and Carmen G. González
Enrique's Journey: The Story of a Boy's Dangerous Odyssey to Reunite with his Mother by Sonia Nazarrio
A Passion for Politics (Mission Bells) by Anita Perez Ferguson
Latinos in American Society: Families and Communities in Transition by Dr. Ruth Enid Zambrana
Journey to the Future: A Roadmap for Success for Youth by Ltc. Consuelo Castillo Kickbusch
Homeless my Choice by Roy Juarez Jr.
The Story of Latinos and Education in American History by Dr. Abdín Noboa-Ríos
A Long Petal of the Sea by Isabel Allende
The Deepest Roots: Finding Food and Community on a Pacific Northwest Island by Kathleen Alcalá
Más Allá de la Justicia by Maria de lourdes Victoria
We are continually adding to this list. If you have any recommended additions please send us an email at info@curiositybased.com so we can add it here.
Interested in reading more? Check out our LGBTQ-Authored Leadership Booklist!
Read our other leadership booklists too!