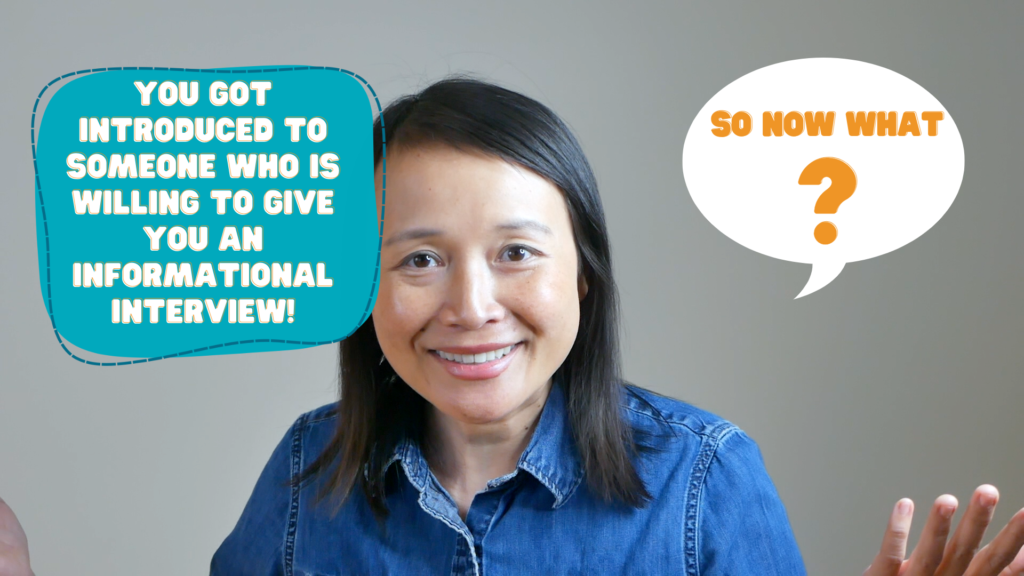 If you're looking for a job, you might think the best thing to do is to just apply for jobs and to talk to people who you think can help you get the job you want. In my experience, what I think I wanted was not always exactly what I wanted. Informational interviews help me get clarity.
An informational interview is a way for you to get information about a job or industry or even just to get advice on getting a job. It's an opportunity to make a good impression on someone who can then introduce you to someone else who might have an opportunity for you. They're just helping you figure out what you want to do next. An informational interview is not a job interview. So don't treat them like they have a job for you. If you do, you might be sorely disappointed.
I've had a lot of informational interviews in my life. In fact, when I moved from working at my family's newspaper to working in big tech, I talked to 5 new people a week for 8 weeks. I had 40 informational interviews!
An informational interview is a really good way to help you refine what kind of job/career you're looking for. You want to learn how to talk about what you want to do. They may introduce you to jargon that is used in that job function or in the industry so that you can more clearly articulate what you want to do later on to other people. For example, maybe you've been thinking about becoming a coordinator and they tell you it's called a "project manager" in their field. Or what you thought was a product manager is actually called something else. And you may learn of opportunities and job roles that you never even knew about through this process.
Think about the informational interview as an opportunity to make a really good impression on someone too. If you show that you are smart, and articulate, you ask good questions, and you listen, then they may introduce you to someone else. If you come off as pushy, salesy, or as a poor listener, then they're not going to want to introduce you to their network.
To get the informational interviews in the first place, reach out to your network for introductions, including people you volunteer with, and form a group of accountability partners who can also be on the lookout for people you can do informational interviews with. You can read more about this in my blog post on six tips to get a job you love. I don't do cold-call outreach, so I can't really speak to that.
These tips are about the actual informational interview:
Do some research about them and let them know you did your research
Do your research beforehand. Think about some things that you can reference so that they know that you have done your research. You can even say, "I read your website", "I looked at your LinkedIn," and "I read something you wrote or watched a video of a talk you gave." When you don't have much time, make sure you get the basic stuff out of the way. If you ask someone, "what do you do?" when you first meet them, it signals you didn't prepare and you might look bad. I've had people introduced to me by friends who had no idea what I did and I ended up explaining basic information that they could've found out beforehand. It took up valuable time that they could've used asking me for advice. Doing your research will make you look prepared and proactive. I'm less likely to introduce someone to someone else if I think that they are also going to be unprepared for that person too.
Prepare three specific and relevant questions
Some informational interviews last an hour or two, and others will only last 10 to 15 minutes. I usually give about 30 minutes. Since you don't know how long you'll have, prepare as if you only have 15 minutes. Think about three specific questions you want them to answer. These questions should be relevant to them. For example, "since you've worked in the corporate world for decades, what advice would you give to someone who's never worked in the corporate world?" I did this to someone who is a Director level at a large company and I only had 30 minutes with him. Later on, he referred me to a role within that company, and I saw in his introduction notes to the recruiter, "she is a very precise and concise communicator and a clear thinker." That's the kind of impression I made on him. Also, don't assume that you will get a chance to have another conversation with this person. So you really want to be able to get your questions answered in that conversation.
Ask if there is anyone else they think you should talk to and they'd be willing to introduce to you
The best way to get informational Interviews is through referrals. So if you have a good informational interview, then you can ask that person if there's anyone else they would recommend to talk to you. They might not come up with an idea then and there. So you can follow up with them. Check out this blog post on how to write an introductory blurb to help make it easy for them to make that informational interview possible. I am usually able to think of at least one other person that they should connect with, and I asked them to write the introduction blurb. I cannot tell you how many times people don't follow up with an introductory blurb, and so if they're not willing to do that part, then I'm not going to use my social capital to make that introduction. They have to at least be willing to write their own introduction blurb.
Offer to help them
At the end of the interview, ask them if there's anything that you can do to help them. That way it feels like you are not just taking, you also want to give back. It also signals that you have something to offer. You may think that you have nothing to give, and yet even small acts can be meaningful. The best kind of offer is related to something that they talked about during the conversation. Chances are, they will say no, they don't need anything. You can still make a small offer. It also shows that you were listening. For example, if they mention that their son plays in the youth symphony, and you are connected to a musical appreciation group, you may say, "Do you want me to send you information about this special program that your child might be interested in?" Or if they mention they love a particular cuisine, and you are really familiar with that cuisine, you can offer to send some restaurant suggestions. The point is, it's about showing that you want to give something back. I always appreciate getting asked this question and I ask people to subscribe to the CuriosityBased newsletters and social media channels.
Say "thank you" afterward in an email
Definitely follow up with an email to thank them for the conversation and also reference some of the things that they said to show that you were listening. This is another chance for you to make a good impression and demonstrate your communication skills. Sometimes you forget to send the "thank you" right away. It's never too late. You can always say, "I'm sorry that this is long delayed. I've been meaning to say thank you for our conversation."
Keep them updated on your job search
If they do introduce you to someone else to have an informational review, keep them updated about the conversation. You could say, thank you again for introducing me and we did talk last week and it was a great conversation." This is a way to keep them in your corner and support you. When you get a job, even if it's very different from the one that you had talked to them about, still reach out to them and let them know.
I hope you've had these tips helpful. If you did, please share on social media and with your friends.