Many companies claim they support diversity and want to increase the number of women and people of color in their leadership ranks.
Saying is easy. Doing is hard.
Imagine hearing an all-white, mostly male executive team espouse the value of diversity. Yet, no one on the team voluntarily gave up their seat to make room for a more "diverse" candidate? In many cases, diversification requires structural and organizational change and financial investment. It can mean replacing the people who fill a limited number of roles.
Meanwhile, most of the top ranked leadership and management books are written by white men. Of Amazon's top 100 recommended books on leadership, only 12 were written by a woman or person of color. Only 18% of business books are written by women. Society is demanding a change in representation, yet the leadership playbooks haven't kept up.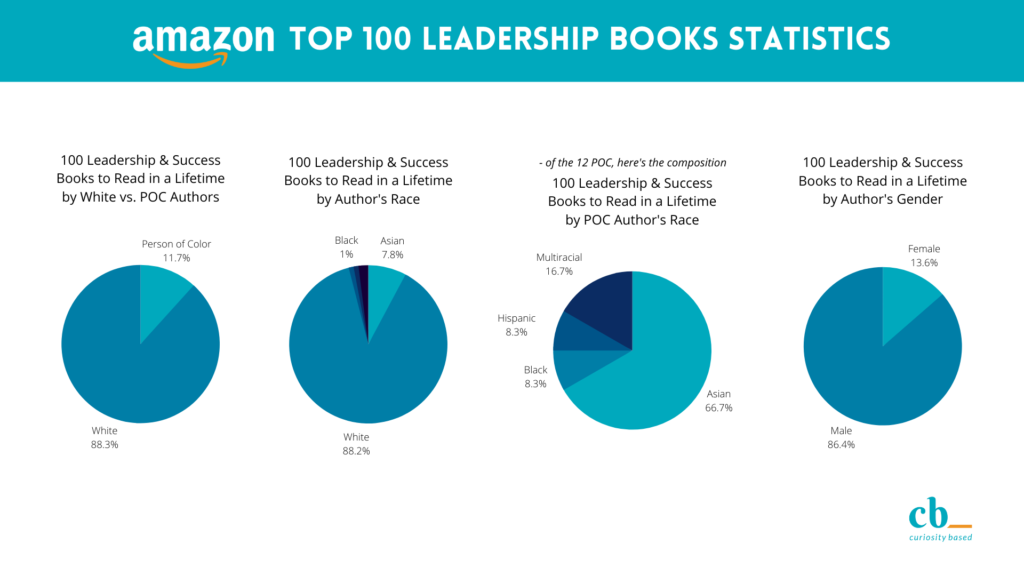 I'll liken this to movies and plays. While the actors are changing, they are still performing the same scripts. We're not diversifying the pool of the screenwriters and plays.
We don't have to wait for the infrastructure change required to increase diverse representation before we start exposing ourselves to underrepresented leadership perspectives.
These are parallel and complementary efforts. The former requires structurally making space for new people. The latter asks people to expand their minds. You can still read Adam Grant and Patrick Lencioni. You can also read Adrienne Maree Brown and Dr. Laura Huang. The virtual bookshelf and podcast library aren't limited in the way seats on a corporate board or executive team may be.
There are issues on the supply side. Dr. Richard Jean So and Gus Wezerek found that most books since 1950, both fiction and nonfiction, are written by white people. They attributed this to structural barriers in traditional publishing. Not surprising that leadership narratives largely reflect a white male experience.
Here's the thing—leadership books by underrepresented authors exist though they rarely make it to the recommended book lists. My company started to create lists of books authored by different communities: women, Black Americans, LGBTQ, authors with disabilities, etc. Based on our research, we compiled 100+ books per group, and we know there are many missing. Many of the books on these lists were self-published. The lists include memoirs and social commentary. We expand what "leadership narrative" means.
On the demand side, we, as the readers, the audience, and consumers, have influence.
We can consult existing leadership narratives written by underrepresented authors and find ways to integrate relevant philosophies that align with and support our mission. Many authors, like Ruchika Tulyshan, Mikaela Kiner, Cindi Bright, and Dr. Marie Gervais, share useful strategies and tactics to foster inclusion at work. We can also validate those authors by promoting their work.
Clearly, books by underrepresented authors are not always about race and diversity. Some books address race and gender; most do not. It shows that books by underrepresented authors don't just have to focus on their identity.
Women and people of color who are in leadership roles were hired for their expertise. Their diverse perspectives are a bonus. That's how we should approach leadership books. Just as we don't expect white male authors to write about their race and gender, underrepresented leadership authors shouldn't need to focus on their race and gender.
Designers use a concept called the curb cut effect: if you design something for those with special needs, it may actually end up benefiting more people. A common example of this is when curb cuts were made into sidewalks for wheelchair users and ended up helping many others, like those with baby strollers and luggage. The idea here is when someone writes from a minority perspective, that perspective will end up helping and benefiting others too.
An excellent example of this is Stacey Abram's book, Lead from the Outside, which was originally titled Minority Leader. Each chapter has practical worksheets and frameworks that everyone, including white men who are not in the minority, would also find helpful.
As consumers, we should evaluate our expectations for what counts as credible. Many popular leadership books are written by academics or those with corporate experience. White men dominate both academia and the corporate world, so leadership books also follow suit. It's a vicious cycle. We think we need authors to have those credentials, so publishers only publish authors with those credentials, which reinforces the belief that we should only read those with these credentials.
Large corporation CEOs already author many books. Many fewer books are written by small business owners, who also are much more diverse. Moreover, small businesses account for nearly 99.75% of all companies, and they are responsible for 66% of new job creation. So why are we looking for the small minority of leaders at large companies to teach us? How is their experience more applicable or relevant?
When I read leadership books by white men, especially in business, they often cite their leadership roles in major organizations and relationships with billionaires. I just can't relate.
We lament the lack of diversity in leadership as a way to advocate for systemic change.
As individuals, we may not have the power, position, or capacity to influence who is represented in our boardroom and executive teams.
We do have the choice to start reading, supporting, and consuming leadership narratives by underrepresented authors.
This post was based on my LinkedIn Newsletter post, "Enrich how you lead by expanding who you read," which was originally posted on June 2, 2022. Please subscribe.