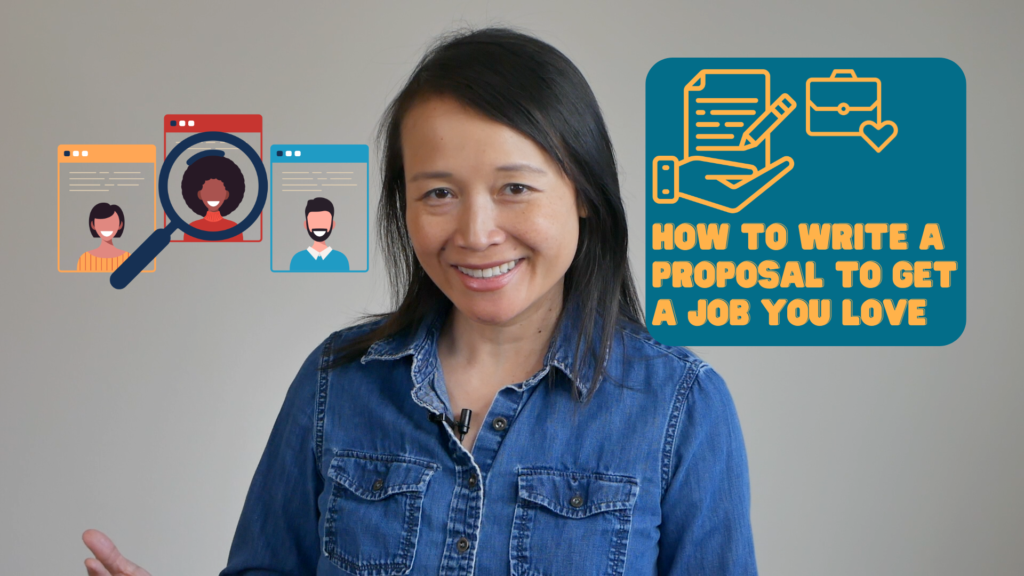 In my blog post about 6 Tips on How to Get a Job You Love, I mentioned writing a proposal to pitch yourself as a candidate for a job, even one that doesn't exist yet.
Taking the time to write this proposal will also force you to articulate your pitch why you want this job. As you go through the exercise, you may realize that you don't want it. Or you may realize that you're still super excited about it.
Every time I've written such a proposal, people have been impressed by my ability to communicate, process large amounts of information, and synthesize what needs to be done. I've also been on the hiring end where I've gotten a proposal and it signaled to me how committed the candidate was to the role.
Ideally, you should write the proposal after you've had at least an informational interview, and perhaps even the full interview loop.
Here are the 6 elements of a proposal:
Why do you want to be at that company or in a new role?
Define clearly why you want to be there. Reference specific aspects of the company or of that role that appeal to you. The more detailed you can be, the more believable you will be.
Why do your skill sets and experience make you a good fit for the company or for a different role in the company
Help the hiring manager understand why you would be a good fit, which is different from you being a strong candidate. Being a good fit means that you understand what this role and company needs and you fulfill those needs. You could be really skilled, but not a good fit for their needs. When you describe your experiences, that's what sets you apart from other candidates. This also helps them understand that you understand what they need.
What you see as the company's strengths, needs, and opportunities
It might feel uncomfortable for you to give an analysis of both the good and the bad, and yet it shows that you are a critical thinker and listener. You were able to digest what they shared with you and to show a vision of what's possible. You can literally do this as a SWOT analysis.
What you would do to address the needs, weaknesses, and opportunities
And after you write the SWOT analysis, then talk about what you would do to reinforce their strengths, improve the areas where they are weak, pursue their opportunities, and address their threats.
Create a sample timeline of your plan to add value
Write out a plan of how you would go about fulfilling this role in the first three, six, or nine months on the job. You don't want to go too far in the future because there could be a lot of things that change. Make it just long enough so that you have done enough to make progress and know what to do next. Keep in mind that you won't necessarily exit on this plan, but that it shows your ability to prioritize and plan and that you were action-oriented.
Compensation
Think about what you would want to be compensated for this role. Do your research. It might be uncomfortable for you to write it out. But it might even be more uncomfortable for you to say it to them. Think about other benefits and parks that are important to you and you can put them in here.
Whenever I've written these proposals, they've been at least 3.5 to 5 pages long. Remember, you are writing this proposal for both you and the employer, not just the employer. 
Check out my blog post on 6 Tips on How to Make the Most of Informational Interviews When You're Looking For A Job. You can watch the video explainer versions by subscribing to the CuriosityBased YouTube channel.