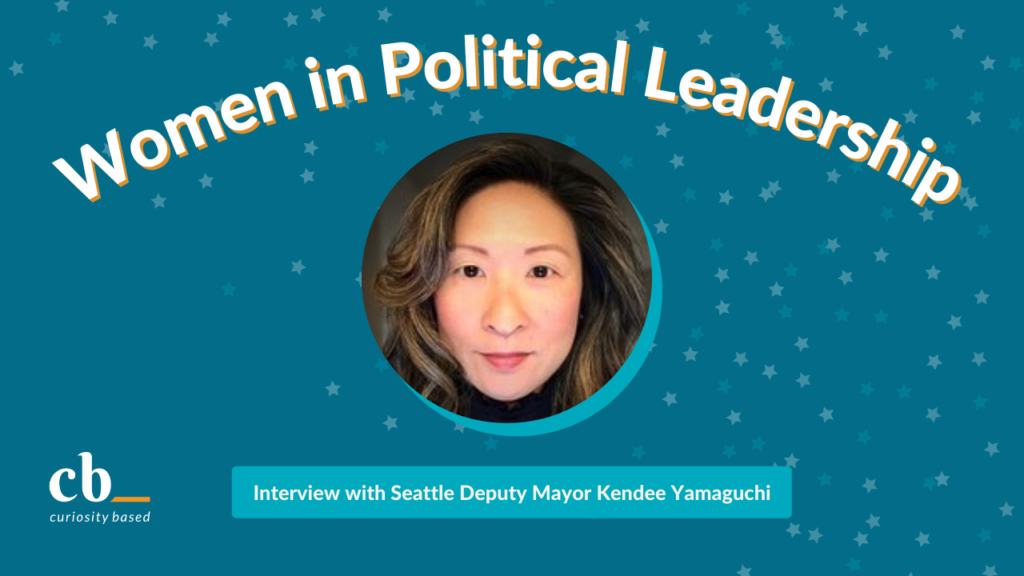 What sparked your interest in serving in public office?
My interest in public service stems from my family's experience being placed in a Japanese Internment camp during World War II. Early on in school, I felt that history may have looked different if it included the representation of policy decision makers at the table raising issues and concerns during critical moments of decision making. The impact policy decisions had on my community and the generations that followed fueled my passion to work in this area. I learned firsthand the importance of representation and how the absence of it impacts society. In memory of my grandparents and family, I have worked for over two decades in all levels of government to contribute my skills to building a better community, nation, and world.
What is it like being a woman in public office? What are some strengths and challenges you experience that might be unique for women in policy making spaces?
As the first person and woman in my family to go to college, I had many firsts in my personal and professional life. I was fortunate to become one of the youngest AAPI women to work at the White House, be appointed a state agency cabinet member, and serve on several executive management teams in government. Breaking through glass ceilings for others and paving paths for future generations helps give me the strength to face challenges. There are many challenges that come with breaking new ground, to name a few — gender bias, discrimination, age bias, etc. When I first started out in my career being one of the "firsts," I had fail and learn as there was no "manual" or role model to look up to in some situations. These experiences later in my life have been critical to my success as it ultimately prepared me to navigate situations. Without being forced to exercise this muscle, I would not have the foundation, resiliency, and confidence to take on almost anything.
From your perspective, what are the most pressing issues to our region?
Public Safety, homelessness, COVID recovery, and a restoration of trust and belief in government.
In my position, I have a focus on supporting a robust and equitable recovery from the pandemic for our City's small businesses and working families, arts and entertainment organizations, and communities across our City — helping rebuild and restore our City. We have an opportunity to come back from this pandemic stronger than ever, leading with innovation and equity, community voices and new ideas.
Just as important is the restoration of improving trust in our government. Mayor Harrell has made it a priority for the City of Seattle to get 'back to the basics' of good governance — serving the people and communities of our City well, and stressing what we have in common and instead of what separates us. Getting back to our residents, meeting their immediate needs, and showing the kind of action that leads to tangible, sustainable results in everyday neighbors' lives. In my role, that means ensuring our government is a conduit for community organizations and small businesses to thrive — helping get support when they need it, attracting and putting on world class events, and uniting our City together to show what we can accomplish when we share our common values and goals.
What are some policy solutions that you're particularly passionate about?
Our Office of Economic Development (OED) which is under new leadership is going to play a key role in getting recovery dollars out into the community for small businesses most impacted. I believe, as does the mayor, that we can supercharge our OED office to drive a new level of economic development and investment in our community. That means making it a hub for small businesses in need of support, a leader on workforce development, and a leader in supporting women and minority owned businesses.
I also believe collaboration locally and regionally — public, private, and philanthropic — is going to be an important difference maker. For example, the mayor is building new systems to address the homelessness crisis that lead to a more coordinated and effective response. This includes a recently announced collaboration between the City, County, Regional Homelessness Authority, and major businesses and philanthropic leaders to address the homelessness crisis downtown. When we reduce silos and work together, we can do so much more — I have hope for our future given the potential opportunities to partner with organizations and community groups.
How does curiosity aid the policymaking and decision-making process?
Curiosity is critical to decision-making. Being able to raise questions, be creative, and innovative allow us to reach the best results. Having diverse opinions, representation and critical thinking brings about better policies. If we approach challenges in the same ways, we inevitably get the same results. Our present-day world requires us to be curious and creative to solve some of the complex problems that face us. We need leaders that can think "out of the box" and collaborate with partners to achieve positive results for our City.
Continue reading our Women in Political Leadership Series:
Interested in learning more from women in leadership? Check out our Leadership Book List, where we have compiled 350+ books written by women in leadership.